A sincere "Thank You" to Our 2023 Sponsors.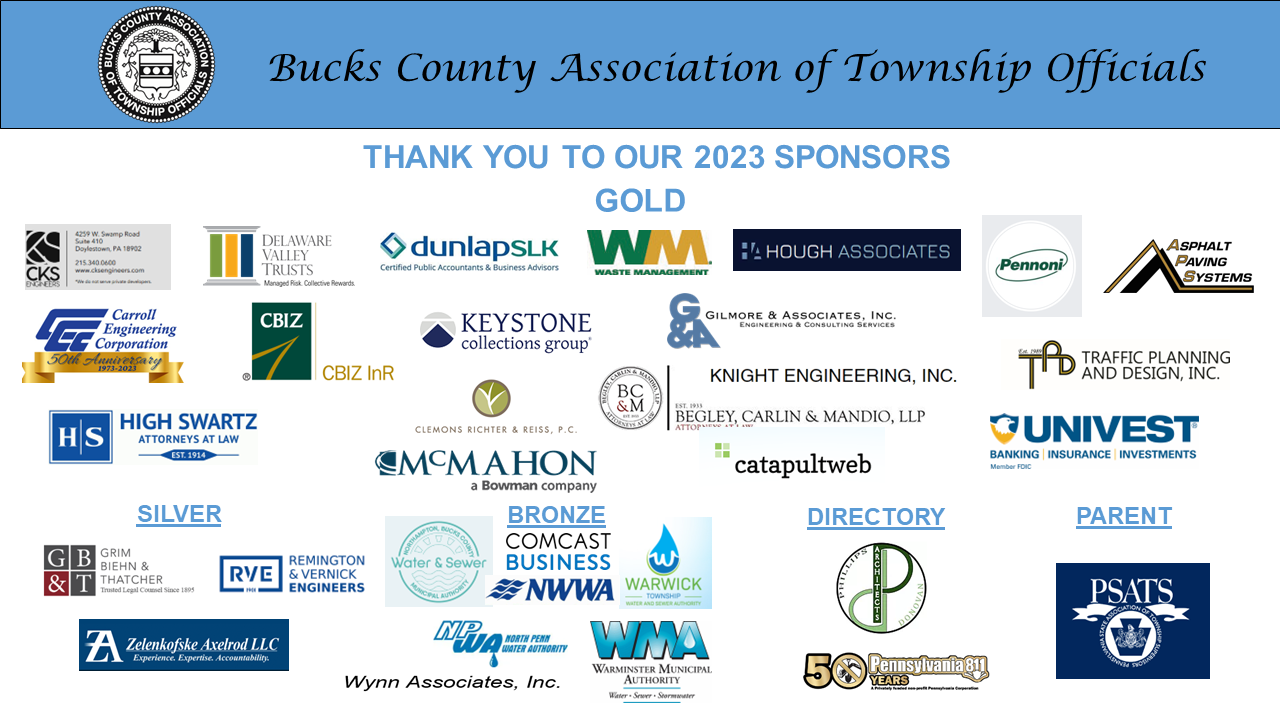 BCATO 2023 Sponsorship Packages are available. 
On behalf of the BCATO membership, thank you for your support over the years.  We are looking forward to our key in-person events returning for 2023 including the Annual Convention, the PSATS BCATO Suite for lunch and refreshments, and the Fall Reception.  For additional information, please contact Stacey Mulholland at executivedirector@bcato.org.
2023 Sponsors
Gold Sponsors
Asphalt Paving Systems
Begley, Carlin & Mandio, LLP
Carroll Engineering Corporation
Catapult Web
CBIZ InR
CKS Engineers, Inc.
Clemons Richter & Reiss
Delaware Valley Trusts
DunlapSLK
Gilmore & Associates, Inc.
Hough Associates
High Swartz LLP
Keystone Collections Group
Knight Engineering
McMahon A Bowman Company
Pennoni Associates, Inc.
Traffic Planning and Design, Inc.
Univest Financial
Waste Management
Silver Sponsors
Grim, Biehn & Thatcher
Remington and Vernick Engineers
Zelenkofske Axelrod, LLC
Bronze Sponsors
Comcast Business
Northampton Municipal Authority
North Penn Water Authority
North Wales Water Authority
Warminster Municipal Authority
Warwick Township Water and Sewer Authority
Wynn Associates, LLC
Directory Sponsors
Phillips & Donovan LLC
PA One Call
Parent Sponsor